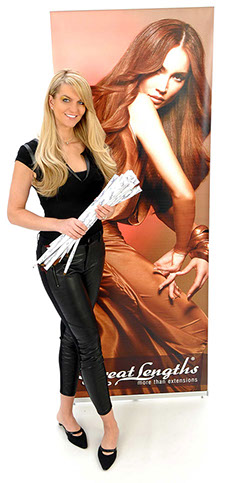 Ursula Sienko, founder and owner of Hair Fusion Bar, began her career nearly 15 years ago.  Her sole desire was to provide beautiful Hair Extensions to women who, like herself, were not fortunate enough to be blessed with long, full, natural hair.  Ursula launched her Hair Extension career in Princeton, NJ and quickly grew her business to provide "Ursula's Extensions" throughout the New York, New Jersey and Philadelphia area.  Today, Ursula is nationally recognized as one of the Top 5 Master Hair Extension Artists in the country.  She has also been certified by Great Lengths as a Platinum Salon for the past 10 years in recognition of her exceptional work and extremely high volume of Great Lengths hair extension services.  Her work is highly sought after for its flawless color blending and seamless hair transitions.
Ursula opened her first salon "Ursula's Extensions" in the picturesque town of Millburn NJ; home to the famous Short Hills.  Based on the overwhelming success of "Ursula's Extensions" in NJ, she decided to open the "Hair Fusion Bar" in downtown Chicago, IL, with the sole goal of providing only Hair Extensions.  The "Hair Fusion Bar" is the first Hair Extension ONLY salon in the nation .
The "Hair Fusion Bar" (HFB), formally known as "Ursula's Extensions", is focused on providing the worlds best hair extension services, along with the most natural looking hair.  Our goal is to allow each of our clients to look and be transformed into the most beautiful, confident, stylized person they've always dreamed of.
Every single HFB employee, including the owner, is a "Hair Fusion Bar" client  We believe that in order to provide the best possible service to our clients, every single employee must be intimately familiar with the entire HFB hair extension service and care regimen.
At the HFB, we take great care to customize each client's hair extension service to their natural hair and facial features.  During each consultation at least an hour is spent with you to go over every facet of your desired hair extension service.  Our custom hair extension designs start with every consultation where we determine exactly what colors, shading, length and cut we will provide during your service.  Each step is meticulously crafted to maximize your style and overall beauty using our unique hair extension design process.  Attention to every detail is carefully noted  and discussed with you.  For our most discerning customers, we can also custom order any hair type or exact color.   We simply take a small sample of your hair and have it hand made and color matched directly from our Great Lengths partner in Italy.
Highly discreet VIP custom hair extension services are also available directly to entertainers and fashion models across the country.  We always maintain strict privacy for all our VIP clients.
Please feel free to browse through a small sample of our work using our online Portfolio of over 1500 photos.  Call us today at (312) 763-2860 , we are confident that we will exceed your expectations.  Same day services are available to all our clients requiring urgent care or simply passing through our beautiful city for the day.
Also, feel free to read our Customer Reviews and see what they have to say about our Hair Extension services.