ACCA KAPPA
Acca Kappa
Designed for your Great Lengths
Serum Hair Fluid with ARGAN-OIL creates a velvety soft shimmer on all hair types without leaving hair greasy. TIGER NUT OIL adds additional light reflection and protection from free radicals. Use Serum Hair Fluid for hair that is soft and flexible, with increased volume. 50ml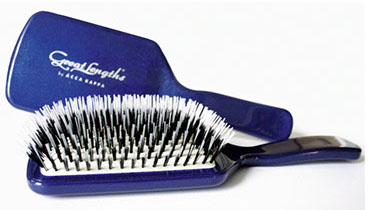 Large Paddle Brush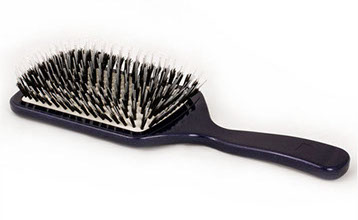 Medium Oval Brush
Small Travel Brush with Plastic Pouch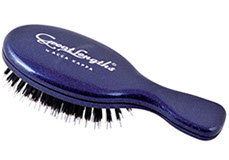 ---
GreatWave™
GreatWave™
Ionic Conditioning Brush
Great Lengths is proud to bring you the latest in brush technology. The GreatWave™ brush is the worlds only brush that utilizes unique, wave shaped nylon bristles charged with Ionic Minerals. It's unique barrel shape creates more of an open-ended wave, or can be used to smooth the hair straight and give lift and a beveled edge without curl.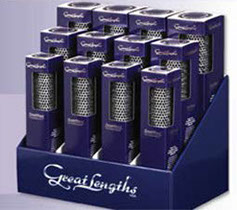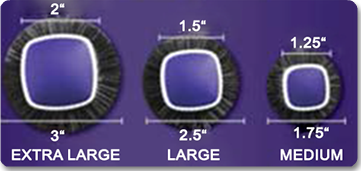 Ideal for extension wearers, the bristles are designed to grip and create a silky effect while easily passing over hair extension attachment sites.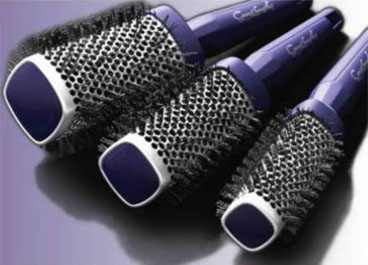 Faster Drying time
Deeper moisture penetration
Silky, shiny, conditioned hair
---
GENERAL
General
DO NOT shampoo your hair for 48 hours after your Great Lengths service

, including initial and maintenance services. This will give enough time for the bonds to settle and ensure that your extensions will not slide out through premature contact with cleansing chemicals.
Expect to see small quantities of naturally released hair trapped in the bonds after some time. This is quite normal as hair naturally sheds on a daily basis. These ends can be cut by your stylist to minimize tangling close to the bonds. May be more noticeable with dark hair.
Prior to bed, pull your hair back into a soft ponytail or braid to prevent tangling while sleeping. Use a Satin Pillowcase to allow your hair to move freely while you sleep.

Return to Hair Fusion Bar two months after your extensions have been applied

for a complimentary check-up appointment. During this appointment we will check and separate your bonds which will help maintain healthy hair growth.
BRUSHING
Brush your hair twice a day using a Great Lengths brush which is specifically designed for Great Lengths hair extensions. Do not use hard brush strokes. Separate your applied strands using your fingers and slowly brush close to the scalp over the bonds using a natural Boar Bristle Brush. This will avoid matting in this area. Do not use a hard bristled brush. This may cause the extension strands to slip out.
Use a wide toothed comb or a vent brush to gently remove tangles from mid-strands to hair ends. 

Do not use a comb near the scalp area and the Great Lengths bonds.
STYLING
Curling irons and hot rollers may be used on Great Lengths hair extensions, but keep them at least 3cm to 4cm away from the hair bonds.

DO NOT use a flat iron or curling iron directly on the bonds

.
SHOWERING
Do not use products that contain sulphur, such as dandruff shampoos. Use recommended Great Lengths products that are especially designed to improve the condition of your hair extensions, prevent hair shedding and slippage.
When showering, tilt your head back and cleanse from the top of the head downward. Avoid facing your head downward. Condition using the Great Lengths Conditioner and de-tangle only from mid-strand to end, avoiding the scalp area.

After showering, apply the

Great Lengths Anti-Tap Water remedy to restore your hair's natural ph balance. Dry your hair by wrapping it with a Great Lengths Microfibre Headwrap or a towel to remove moisture. Always dry the base area thoroughly to avoid bond breakdown. Avoiding drying in a scrubbing motion. If using a blow dryer, use a medium to low heat and finish with a cool shot once the hair is completely dry.
SWIMMING
Activities that result in a constant, damp environment, especially swimming in sea water and chlorine, may lessen the longevity of your Great Lengths hair extensions. Prior to swimming, wet the hair completely to prevent chlorine and salt water sticking to your hair.

Immediately after swimming, apply the

Great Lengths Anti-Tap Waterremedy to eliminate damage from alkalinity in water and dry the base area as prescribed above.
---
SHAMPOOS
Designed for your Great Lengths

DAILY MOISTURIZER SHAMPOO
Perfect for all hair types, this gentle Daily Moisture Shampoo adds moisture to slightly dry tips and balances scalp environment. Active ingredient GSP-T® protects hair against environmental damage and premature aging. AQUARICH® repairs damage to the outer cuticle, increases volume and gives hair maximum shine while reducing static. ALOE VERA leaves hair silky yet manageable with a pH of 5.5. 1000ml, 250ml, 50ml.

COLOUR REFLEX SHAMPOO
Formulated specifically for colour-treated hair, Colour Reflex Shampoo contains active ingredient SOLAMER GR8 which protects both tinted and bleached hair, as well as natural hair colour from colour fading and UV damage. Colour remains incredibly intense with exceptional shine. Amino Acids leave hair silky and soft. Antioxidant rich GSP-T® protects hair from environmental stress and damaging free radicals. 1000ml, 250ml.

Structure Repair Shampoo
Structure Repair Shampoo was specially developed for dry, brittle, strained and unmanageable hair. PRO-KERATIN penetrates the hair and repairs damaged fibres leaving hair strengthened with long lasting elasticity. PRO-VITAMIN B5 nourishes hair and scalp and seals in the moisture. Complete with GSP-T to destroy free radicals and protect the hair from UV damage, wind and pollution. 1000ml, 250ml.
---
CONDITIONERS & TREATMENTS
Designed for your Great Lengths

CONDITIONER 60 SECONDS
An intense conditioner, ideal for dry, stressed and damaged hair. In only 60 seconds, your hair is repaired and protected for 60 hours! The creamy emulsion improves hair moisture and elasticity. It rinses out easily and will not weigh the hair down. Active ingredient AQUARICH® regenerates hair structure for outstanding shine and volume without static. ALOE VERA and JOJOBA-OIL maintain moisture of the hair and scalp to protect against dehydration. 1000ml, 250ml, 50ml.
HAIRMASK EXTRA RICH
Hairmask Extra rich is a highly effective, hair strengthening treatment for dry, brittle, stressed and unmanageable hair. The main active ingredient PRO-KERATIN rebuilds damaged protein fibres and restores hair quality. The scalp and hair are enriched by PRO-VITAMIN B5 while antioxidant rich GSP-T® reverses dryness and damage caused by sun exposure, wind and air pollution. 200ml.

Anti-Tap Water
The pH-value of 3,2 in Antitap Water contracts the cuticle layer of the hair. This makes Antitap Water the ultimate product to use after conditioning, treatments or masks, hair extension application or removal. PANTHENOL injects moisture and promotes flexibility. BIOTIN revitalises and balances the scalp and hair. GSP-T® antioxidant complex fights free radicals and prevents premature hair aging due to environmental stresses. 1000ml, 250ml.

PROTECTOR INSTANT CARE
Perfect for all hair types, Protector Instant Care Spray makes hair manageable and tangle free. Use as a leave in conditioning spray with colour locking properties. Boosts curls and waves. SOLAMER GR8 maintains vibrant natural and cosmetic hair colour. GSP-T® protects against free radical damage. 200ml, 50ml.
---
STYLING & FINISHING
Designed for your Great Lengths

Serum Hair Fluid
Serum Hair Fluid with ARGAN-OIL creates a velvety soft shimmer on all hair types without leaving hair greasy. TIGER NUT OIL adds additional light reflection and protection from free radicals. Use Serum Hair Fluid for hair that is soft and flexible, with increased volume. 50ml

Super Shiny Spray
Supershine Spray gives your hair incredible shine instantly. Reduces frizz and smooths dry ends for static-free hair with superior radiance. Perfect for dry hair that needs added softness and shine.

Pearl Gloss Styler
The Pearlgloss Styler is an incredibly versatile styling crème. Use it on all hair types for adding texture, moulding, sleeking hair back or defining waves and curls. Hours after styling, hair stays wonderfully manageable and frizz free. Vitamin B5 and Sorbitol strengthen and protect the hair and prevent loss of moisture. Light reflecting crystals give hair additional gloss and shimmer.
Soft Finish Spray
Perfect for all hair types, Protector Instant Care Spray makes hair manageable and tangle free. Use as a leave in conditioning spray with colour locking properties. Boosts curls and waves. SOLAMER GR8 maintains vibrant natural and cosmetic hair colour. GSP-T® protects against free radical damage. 200ml, 50ml.
---